Alastin
When your skin's ability to recycle and repair collagen and elastin begins to slow, ALASTIN Skincare® offers an innovative collection of specially formulated and clinically proven products to help restart the process. Meticulous clinical work and ingredient evaluation led to the development of TriHex Technology®, a combination of selected peptides and active botanicals that support the skin's ability to clear out damage caused by aging and the environment and replenish with new healthy collagen and elastin.
Whether the goal is to create an essential daily skincare regimen or to enhance the results of some of the most popular skin care procedures, ALASTIN Skincare® offers cruelty, paraben and gluten free solutions that promote fortified, healthy skin so patients can look refreshed and are free to feel fabulous, unfiltered and confident.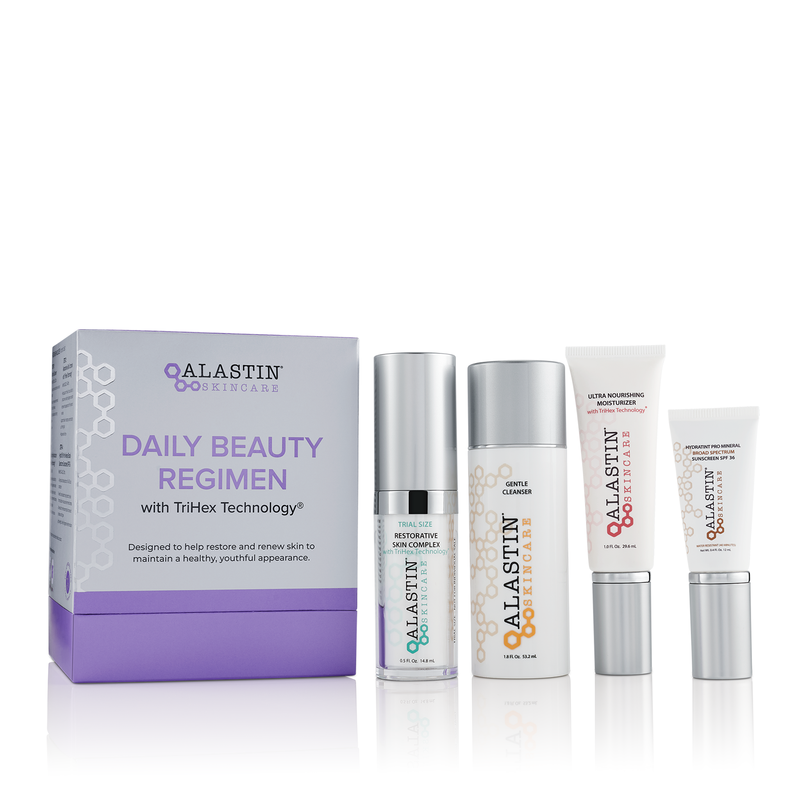 Level II Anti-Aging Program
CONDITION: MATURE SKIN
For early signs of intrinsic aging—fine lines, uneven skin tone, or loss of firmness.
ANTI-AGING SKINCARE PROGRAM
The Anti-Aging Skincare Program uses higher concentrations of active ingredients including growth factors, retinol, and specialized enzymes, to prevent and help repair moderate skin damage at the cellular level.
Offects® Exfoliating Cleanser (1.5 oz.)
Offects® Exfoliating Polish (0.5 oz.)
Ossential® Daily Power Defense (1.0 oz.)
Ossential® Growth Factor Serum (0.66 oz.)
Oclipse® Sunscreen + Primer SPF 30 (0.5 oz.)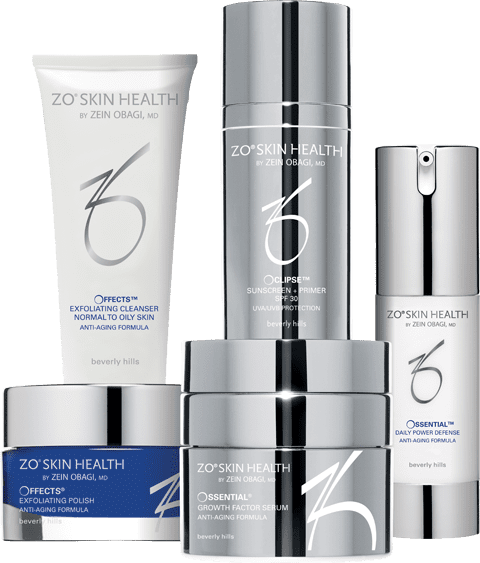 Level III Aggressive Anti-Aging Program
CONDITION: AGING SKIN
For definite signs of aging skin—wrinkles, brown patches, skin laxity, large pores, or significant sun damage.
AGGRESSIVE ANTI-AGING SKINCARE PROGRAM
This Aggressive Anti-Aging Skincare Program delivers the highest concentrations of retinol, helping patients with aging and photo- damaged skin to radically reduce wrinkles, hyperpigmentation, fine lines, rough texture, and sagging skin.
Offects® Hydrating Cleanser (1.5 oz.)
Offects® Exfoliating Polish (0.5 oz.)
Ossential® Daily Power Defense (1.0 oz.)
Ommerse® Renewal Crème (1.7 oz.)
Ossential® Radical Night Repair Plus (1.0 oz.)
Oclipse® Sunscreen + Primer SPF 30 (0.5 oz.)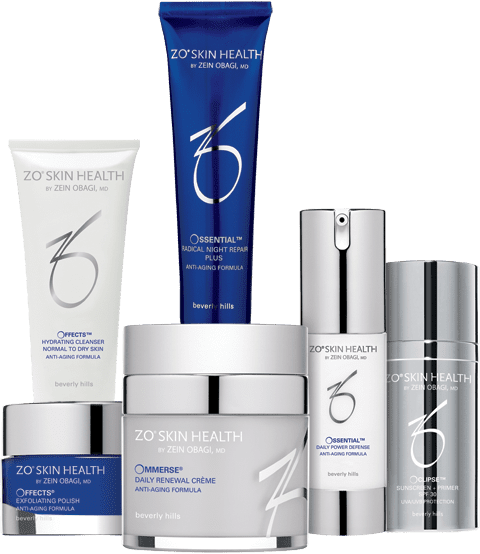 The ZO Skin Health system is a family of medical-grade facial products, and requires a prescription. Schedule a FREE no-obligation consultation with Dr. McIntosh to make sure ZO is right for you.

OCCLIPSE SUNSCREEN AND PRIMER SPF30
Using natural melanin, titanium dioxide, and zinc oxide to provide broad-spectrum UVA/UVB protection, Oclipse is also used to smooth and prime skin for a more even makeup application.
(30 mL, 1Fl. Oz.)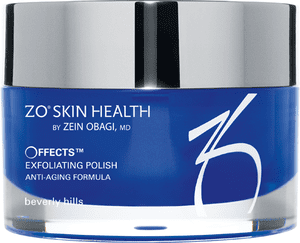 OFFECTS EXFOLIATING POLISH
Ultra-fine magnesium crystals exfoliate dead skin cells and increase epidermal turnover for a cleaner, smoother, more even-toned complexion. Vitamins A, C, E, and C-Esters provide antioxidant benefits to help maintain skin barrier function.
(Net Wt. 65 g, 2 Oz.)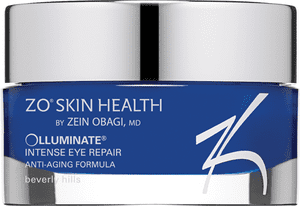 OLLUMINATE INTENSE EYE REPAIR
Stabilized retinol and advanced peptides aid in strengthening skin and minimizing fine lines and wrinkles. Optical diffusers highlight the eye area to reduce the appearance of dark circles. Olluminate Intense Eye Repair helps reduce puffiness and discoloration with antioxidants and anti-inflammatory ingredients.
(15 mL, 0.5 Fl. Oz.)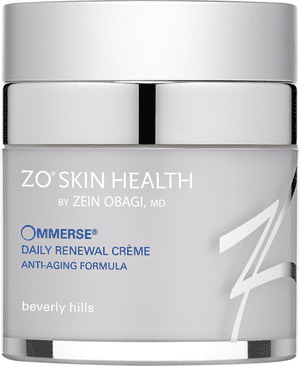 OMMERSE RENEWAL CREME
This functional hydrator contains encapsulated retinol, powerful antioxidants and an anti-inflammatory agent to calm, replenish, rejuvenate, and repair the skin moisture barrier.
(50 mL, 1.7 Fl. Oz.)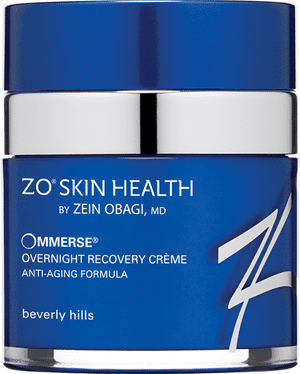 OMMERSE OVERNIGHT RECOVERY CREME
Calming agents help prevent inflammation as retinol and other ingredients work more actively overnight to repair and regenerate skin cells to help reduce fine lines and wrinkles.
(50 mL, 1.7 Fl. Oz.)

OSSENTIAL DAILY POWER DEFENSE
Time-released retinol, antioxidants, and specialized DNA repairing enzymes work around-the-clock to help minimize UV oxidative damage and uneven pigmentation, while restoring skin function and elasticity.
(50 mL, 1.7 Fl. Oz.)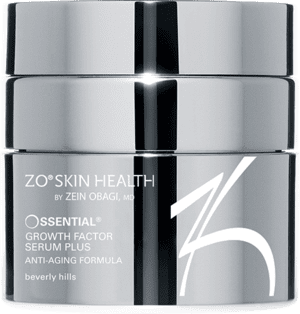 OSSENTIAL GROWTH FACTOR SERUM PLUS
A lightweight gel that strengthens skin, repairs aging skin, and protects against future signs of aging. Formulated for all skin types, even the most sensitive. Mild reaction.
(30 mL / 1 Fl. Oz.)

OSSENTIAL RADICAL NIGHT REPAIR
A lightweight, high potency retinol formula that targets multiple signs of aging skin while protecting against future skin aging and damage. Moderate reaction.
(60 mL / 2 Fl. Oz.)

Balatone
This unique toner optimizes the penetration of therapeutic treatments by removing impurities and balancing the pH of weak skin. It invigorates dry, sensitive and irritated skin with its proprietary technology.
Unique combination of solvents, astringents, and exfoliants thoroughly clears and cleanses the skin
Exclusive blend of conditioners, moisturizers, and hydrators soothes treated skin
Gentle cooling action adds comfort to reduce irritation
(177 mL, 6 Fl. Oz.)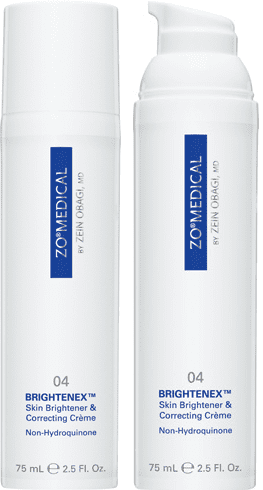 Britenex
SKIN BRIGHTENER & CORRECTING CRÈME NON-HYDROQUINONE
Bioengineered to target all three stages of skin discoloration through a patented, bio-vectored, microsphere delivery system. It is formulated to even skin color and tone, and recommended as a first course in treating hyperpigmentation.
SYNERGISTIC RETINOL FORMULATION
A blend of potent retinol, melanin inhibitors and antioxidants are released to rapidly brighten and even skin tone quality. Additionally, this comprehensive multi-action formulation minimizes skin redness caused by environmental factors and helps maintain an even and restored skin tone.
BRIGHTENEX™ MULTI-ACTION SYSTEM
Dual pigmentation reversal with vitamin A and ascorbic acid-2 glucoside
Bio-active levels of vitamins E and C, and stachys officinalis antioxidants
Multistage glutathione, soy isoflavones, and N-acetyl glucosamine melanin inhibitor system
Retinol microencapsulation in an oleosomes delivery system
(75 mL, 2.5 Fl. Oz.)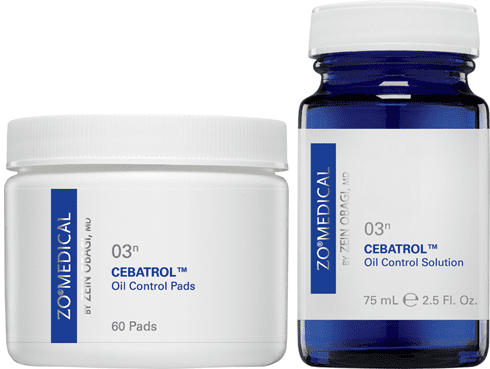 Cebatrol
OIL CONTROL PADS
An invigorating acne medication to treat and prevent outbreaks. Its proven exfoliants effectively remove dead skin cells. These pads also contain an emollient complex to soothe skin and reduce redness.
2% salicylic acid for a maximum-strength acne medication
Mandelic acid helps reduce inflammatory agents that cause irritation
Triclosan provides additional antibacterial benefits
(60 Pads / 75 mL, 2.5 Fl. Oz.)

Invisapeel
INTENSIVE RESURFACING PEEL
This formulation uses an enzymatic process to renew the epidermis, leaving skin noticeably smoother, firmer and brighter.
Provides enhanced exfoliation of the epidermis without any apparent flaking or peeling
Specialized enzymes accelerate the reduction of the appearance of discoloration, rough texture and dehydrated skin
Skin is able to receive benefits from additional ZO® Medical products
(50 mL, 1.7 Fl. Oz.)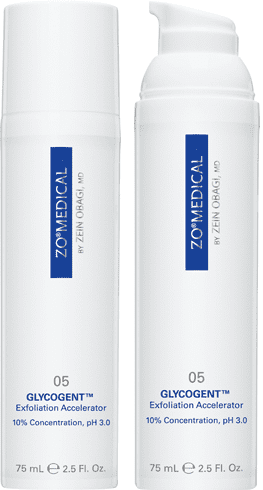 Glycogent
EXFOLIATION ACCELERATOR
An innovative exfoliation accelerator engineered to help reduce inflammation and prevent future damage. Its aggressive protocol enhances mitosis and helps correct skin discoloration.
Potent glycolic and lactic acid complex provides skin surface renewal
Anti-inflammatory properties help minimize the appearance of irritated skin
Proven antioxidants help prevent future skin damage
(75 mL, 2.5 Fl. Oz.)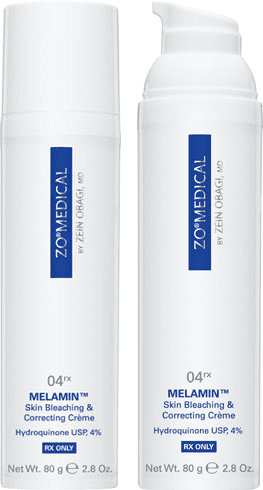 Melamin
SKIN BLEACHING & CORRECTING CRÈME
Hydroquinone USP, 4%
Only available though a physician. Prescription only.
A highly effective Rx solution to lighten hyperpigmentation with 4% hydroquinone. Recommended following use of BRIGHTENEX.™ This formulation alters the essential subcellular metabolic processes that cause cytolysis. It inhibits melanin production to even skin color and tone.
4% hydroquinone acts as a gradual bleaching agent
Reduces the appearance of chloasma, melasma, freckles, and sun damage
Vitamin E helps repair damaged skin cells
(80 g, 2.8 Oz.)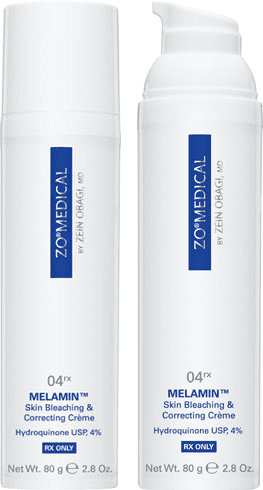 Melamix
SKIN LIGHTENER & BLENDING CRÈME
Hydroquinone USP, 4%
Only available though a physician. Prescription only
A 4% hydroquinone bleaching cream penetrates the skin and effectively delivers the active ingredients of the system to the melanocytes. It alters the essential subcellular metabolic processes that cause cytolysis and inhibit melanin production.
4% hydroquinone acts as a gradual bleaching agent
Reduces the appearance of chloasma, melasma, and freckles
Optimizes delivery of active ingredients
(80 g, 2.8 Oz.)

Normacleanse
CLEANSER FOR NORMAL TO DRY SKIN
Its advanced surfactant gently removes impurities and oil, and prepares the skin to receive therapeutic treatments. This unique formulation gently cleans and conditions the skin.
Highly advanced surfactant matrix removes impurities
Peptide and collagen-boosting complex helps firm the skin
Moisturizing complex nourishes and calms the skin
(240 mL, 8 Fl. Oz.)

Oilacleanse
CLEANSER FOR NORMAL TO OILY SKIN
Dual-action cleanser exfoliates and cleanses skin targeting excess oil. Removes oil and other impurities to clean the skin and clear acne.
Reduces the factors that contribute to skin inflammation
Helps decrease the level of bacteria on skin surface
Promotes exfoliation
(240 mL, 8 Fl. Oz.)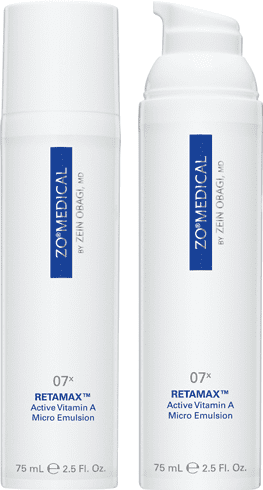 Retamax
ACTIVE VITAMIN A MICRO EMULSION
Utilizing an innovative micro emulsion technology, this potent retinol, blended with plant stem cell antioxidants and bio-mimetic proteins, helps reverse the signs of aging and aids in the prevention of future damage.
STIMULATING COLLAGEN FORMATION AND SKIN BARRIER FUNCTION
RETAMAX™ aids in skin rejuvenation by triggering the natural formation of collagen and encouraging the restoration of the skin barrier function by up-regulating the production of hyaluronic acid, the skin's most vital natural hydrating factor.
ANTIOXIDANT RESPONSE
This biocellular antioxidant system serves to block free-radical damage, helps protect vulnerable cellular DNA, and addresses the root cause initiators of future skin aging. Optimizing inflammation management and anti-glycation irritation, RETAMAX™ helps ensure maintenance of the new, healthy skin state by defending against inflammatory-initiated skin damage.
RETAMAX™ MICRO EMULSION SYSTEM
High-potency vitamin A stimulates the skin's natural rebuilding process
Antioxidant and anti-inflammatory action with vitamins C and E, and buddleja plant stem cells
Biomimetic protein activation for skin regeneration
Micro emulsion technology supports rapid delivery of key ingredients
(75 mL, 2.5 Fl. Oz.)

Vitascrub
INVIGORATING FOAMING SCRUB
An invigorating foaming scrub that sweeps away excess oil, dirt and impurities leaving skin feeling smooth, refreshed and clean. Helps improve circulation and restores skin's natural glow.
Dual exfoliation process removes dead skin cells, whiteheads and blackheads
Exclusive 12-hour multi-oxidant time-release complex helps provide continuous antioxidant benefits
Skin re-hydrators ensure skin remains soft and moist
(Net Wt. 113 g / 4 Oz.)

Tretinoin
Tretinoin USP available in 0.1% and 0.05% cream in 20 g tubes.
Only available through a physician. Prescription only.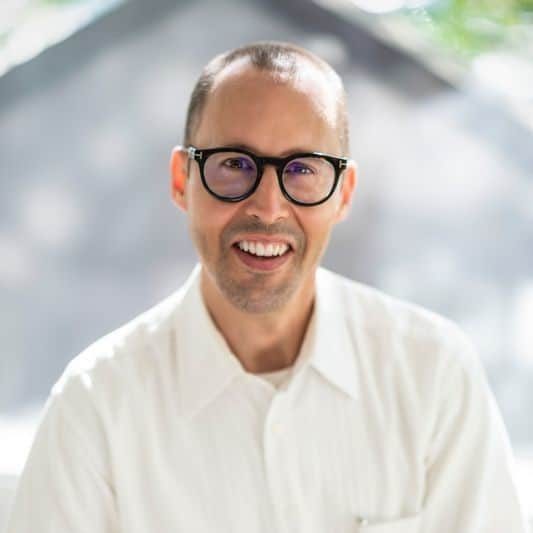 Dr. Bryan C. McIntosh is a Board Certified Plastic Surgeon with over 10 years of experience. Patients from all over Bellevue, Seattle, Redmond, Kirkland, as far east as Yakima, north to Bellingham, and down to Tacoma have been treated by Dr. McIntosh. In his Bellevue office you'll also meet the perfect team of hand-picked aesthetic professionals who truly care about you, and want to ensure you have the best experience possible.
THE #1 REGRET OF MOST PLASTIC SURGERY PATIENTS IS THAT THEY DIDN'T TAKE ACTION SOONER, BUT WE UNDERSTAND IT CAN BE A BIG LIFE DECISION. CONTACT US TODAY TO SCHEDULE YOUR CONSULTATION.
As always Dr. McIntosh is great! Love my results and his friendly/welcoming disposition as well as his front desk staff—Angela in particular make the visit even better. Dr. McIntosh has helped me feel better in my own skin and become my authentic self. I no longer hate what I see in the mirror. -Jaime
After visiting several different places for injectables over the years, I can say Dr. McIntosh is BY FAR the absolute best. His skill in giving a natural look is amazing. Add in his extremely amazing bedside manner and he is my favorite hands down. His office staff are the warmest, kindest, most caring people I've ever come in contact with. I have also had the most amazing experiences with Susie, the Esthetician Extraordinaire. She has completely changed my skin! -Alicia
Book now! You won't regret it. I am in the health care field and have dealt with all sorts of practitioners. Never have I encountered such care, such precision, and such incredible bedside manner. Dr. McIntosh treats me like I am the most important thing in his day, and this is his true personality whether he is speaking to the mailman or a large surgery case. He is brilliant beyond words and has a team of staff that follow suit. Thank you so so so much for being AMAZING!!! - Bellevue Dental Health
I could have never picked a better doctor, I will recommend him over and over again. He is understanding and knows exactly what he's doing. He truly cares for patients and I'm always impressed and satisfied after talking with him. I wish I could give more then 5 stars but if you're looking for an amazing doctor then Dr. Maclntosh is the doctor you want!! - Jazmin